So I've realized that the page where I had announced the challenges I was participating in has been deleted. So, here I will re-announce the two challenges and tell you about a new one.
Debut Author Challenge 2011
This is a challenge hosted by Kristi at the Story Siren where one reads twelve books from authors debuting this year. Update ( 8-10-11) : I have decided to drop out of this challenge. I just don't have the means of acquiring the right books. Maybe better luck next year.
Young Adult Historical Fiction Challenge
In this challenge one pledges to read so many historical fiction books in the YA genre. It is created and hosted by Sab at YAbliss
And now for the new challenge: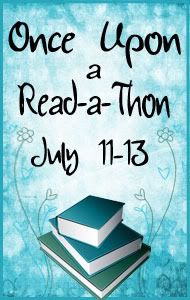 Once Upon a Time Read-a Thon
This is hosted at Pure Imagination and takes place from July 11 to July 13. The goal is to pledge to read so many books and aim to read that many in the three days.
I'm pledging to read 8 books in that three days. Wish me luck!
I'll keep you updated,
<3 Marriah